The 2014 School Mental Health Surveys (SMHS) studied the influence of the school environment on the mental health and functioning of children and adolescents in Ontario.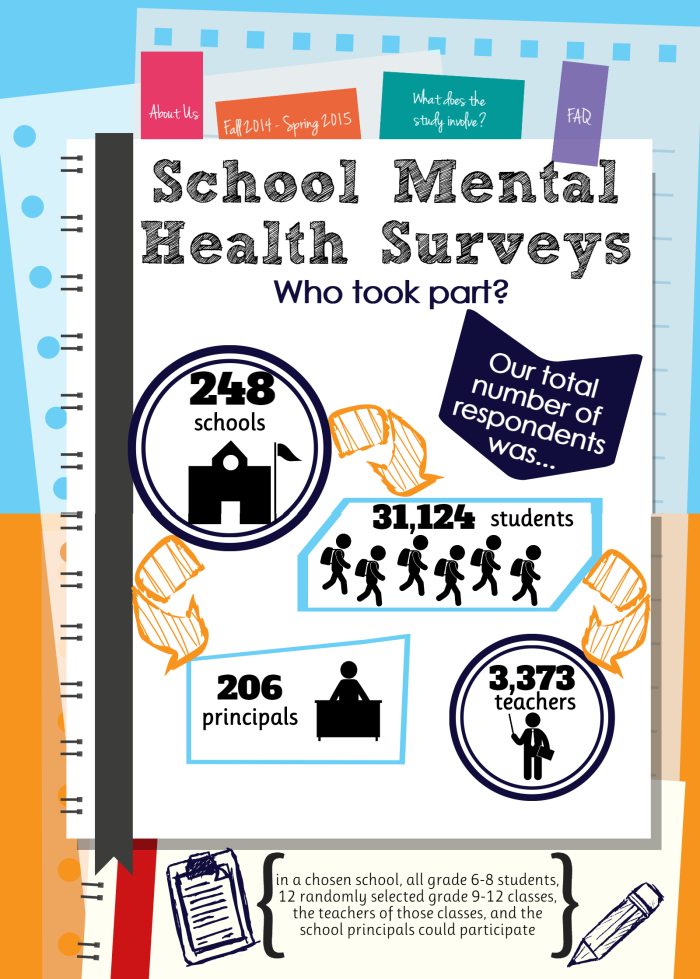 The 2014 SMHS was conducted by a research team at the Offord Centre for Child Studies at McMaster University, in collaboration with the Ministry of Education and with support from the English and French Public and Catholic School Boards within the Province of Ontario.
Determine the impact of

schools

on student mental health.
Determine whether variation in school climate and environment characteristics accounts for variation in levels of child and youth mental health need.
Identify the mental health resources available to children and adolescents within the school context.
Determine the effect of mental health literacy on levels of child and adolescent mental health.
The 2014 SMHS is related to the 2014 Ontario Child Health Study (2014 OCHS). Specifically, schools located in the same neighbourhoods as families participating in the 2014 OCHS were asked to participate in the SMHS. The following picture shows how the 2014 OCHS and the SMHS are related.
The 2014 SMHS will be the first-ever Canadian study that will include surveys of students, teachers and principals.
The 2014 SMHS will allow the opportunity to examine the influence of the school environment on child and youth mental health.
Schools are great environments for mental health promotion, prevention and early intervention programming.
The 2014 SMHS will help Ontario make decisions about programs to better meet the mental health needs of our children and adolescents.