Results from the 1983 Ontario Child Health Study were partially responsible for over 3 billion dollars of investment in federal and provincial programs and services, resulting in the creation of programs such as the Ontario Early Years Centres.
Now, 30 years later, we have conducted a sequel.
The 2014 Ontario Child Health Study (OCHS) studied the physical & mental health of Ontario children & youth aged 4-17.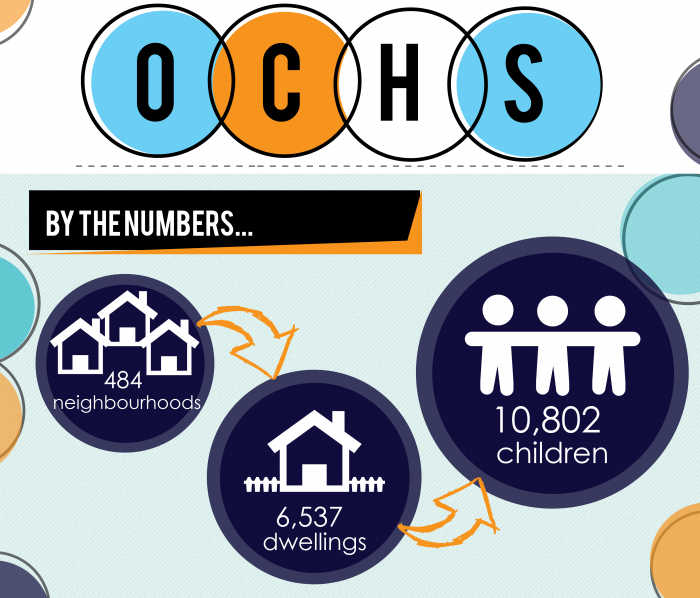 The study was conducted by the 2014 OCHS research team at the Offord Centre for Child Studies in partnership with three Ontario Ministries:
Ministry of Education
Ministry of Health and Long-Term Care
Ministry of Child and Youth Services
Compare patterns and levels of mental disorder in Ontario with estimates generated 30 years ago from the 1983 Ontario Child Health Study
Find out if levels of disorder are linked to family income & poverty levels
Find out if children & families are receiving the services they need
Identify how families, neighbourhoods & schools can reduce the risk for children's mental health problems
Sample size of over 6,500 households (compared to 2,623 in 1983)
Information collected about up to 4 children per household
Questionnaire for partner/spouse
Large study team
Government study partners
Use of cluster sampling to look at environmental & neighbourhood effects
Sample selection based on place & income to allow study of income inequality & poverty
Administrative data linkage with information held by the Ontario Ministries of Health & Education
Document child mental health need & assess health system response ->

Resource allocation issues

Examine the influence of poverty & income inequality -> Social justice issues
Identify environmental influences -> Program priority questions
How does the 2014 study compare to the original 1983 study?

The information from the 2014 OCHS will help Ontario to make funding decisions to improve the prospects and conditions for all children & youth.